Creekside Chase
Creekside Chase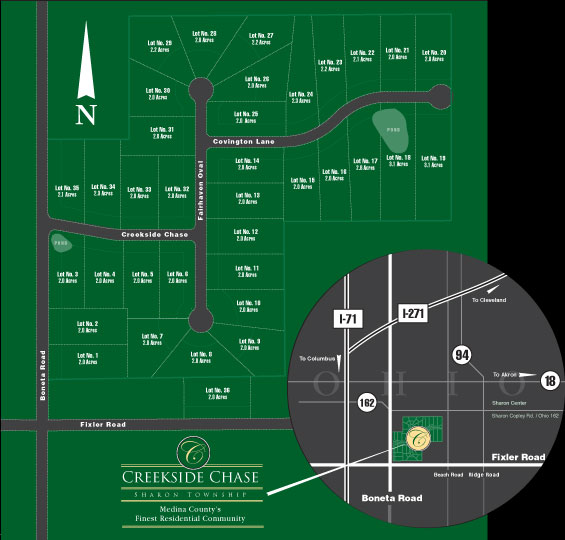 If you are ready for a country estate surrounded b woods, streams and widflower meadows then Welcome to Creekside Chase which is located in Sharon Township - Medina County' finest residential community
Once you enter through the stone entranceway an see the lakes, fountains, white fences and flowering trees you'll know you've made the right choice.
36 Luxury Home Sites 2 - 3 Acre Lots * Protective Deed Restrictions* Builders & Agents Welcome
Underground electric, cable, phone, gas, well, an septic
Conveniently located in Northern Medina County. Creekside chase is just 10 minutes away rom historic Medina shopping and restaurant district; 5 minutes from I-71 and 35 minutes from downtown Cleveland.
Pre-Construction pricing starting at $49,900
Please Contact us for pricing and availability
Please click here to view the Plat Map
| SUBLOT | ACRES | PRICE | | SUBLOT | ACRES | PRICE |
| --- | --- | --- | --- | --- | --- | --- |
| 1 | SOLD | SOLD | | 19 | SOLD | SOLD |
| 2 | SOLD | SOLD | | 20 | SOLD | SOLD |
| 3 | SOLD | SOLD | | 21 | SOLD | SOLD |
| 4 | SOLD | SOLD | | 2 | SOLD | SOLD |
| 5 | SOLD | SOLD | | 23 | SOLD | SOLD |
| 6 | SOLD | SOLD | | 24 | SOLD | SOLD |
| 7 | SOLD | SOLD | | 25 | SOLD | SOLD |
| 8 | SOLD | SOLD | | 26 | SOLD | SOLD |
| 9 | SOLD | SOLD | | 27 | SOLD | SOLD |
| 10 | SOLD | SOLD | | 28 | SOLD | SOLD |
| 11 | SOLD | SOLD | | 29 | SOLD | SOLD |
| 12 | SOLD | SOLD | | 30 | SOLD | SOLD |
| 13 | SOLD | SOLD | | 31 | SOLD | SOLD |
| 14 | SOLD | SOLD | | 32 | SOLD | SOLD |
| 15 | SOLD | SOLD | | 33 | SOLD | SOLD |
| 16 | SOLD | SOLD | | 34 | SOLD | SOLD |
| 17 | SOLD | SOLD | | 35 | SOLD | SOLD |
| 18 | SOLD | SOLD | | 36 | SOLD | SOLD |
Click for Deed Restriction | Purchase Agreement | Agency Disclosure Form